Last year, the average-income Canadian burned through about $1,810 in celebration of the holiday season. What if a mere $100 of that was spent locally? The impact would be significant.
So why not impact Windsor-Essex this Holiday Season. We have compiled a local gift giving guide that will surely cover everyone on your list – naughty or nice.
Please note, this is merely a snapshot of available local gift ideas. Windsor-Essex is filled with great businesses, restaurants and people. Share your suggestions with us on Twitter at @wetechalliance or on Facebook at fb.com/wetechalliance. 
Stocking Stuffer Ideas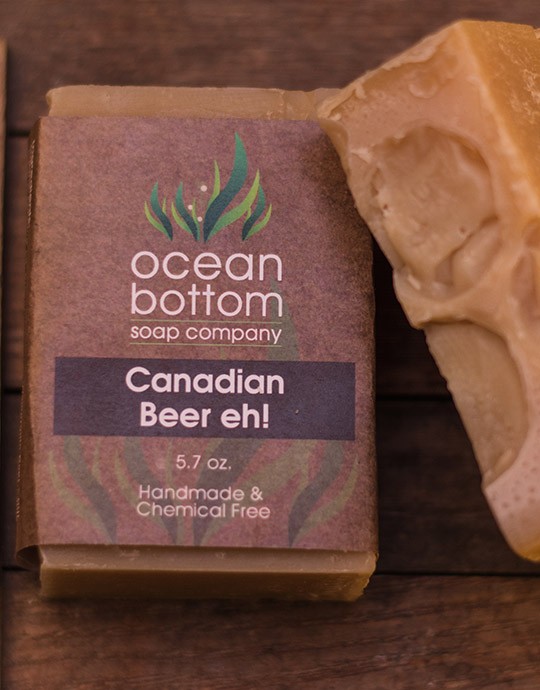 Oceans Bottom Soaps – Canadian Beer Eh! Body Bar (Made with Preservative Free Walkerville Beer (local craft beer brewed in Windsor)
Intoxicate your skin with Oceans Bottom Soaps spicy beer soap. Its super rich lather will leave you feeling revitalized! Enriched with sunflower oil high in vitamins A, B, D and E. African shea butter penetrates the epidermis of the skin soothing irritations and argan oil for its anti-aging properties.
Cost: $6.75
Licia Ruby Food Company – Roasted White Chocolate Bar
Chances are, you've never tasted white chocolate quite like this. Each bar is hand crafted, hand wrapped, and made with sustainably sourced white chocolate and a hint of sea salt. Try at your own risk – this stuff is HIGHLY addictive!
Cost: $8 per bar
http://www.liciarubyfoodcompany.com/
Papa D's Hot Sawce – Spicy 3some 3Pack
For those hot sauce fans on your gift list, fill their stockings with Papa D's Hot Sawce – Made fresh, hand-crafted, gluten free, no preservatives and made proudly in Windsor.
Cost: $25 (Includes: The Jalbanero Honey, Tropical Hot Sawce, and Jalbanero Hot Maple Syrup)
R&J's Circus – Grooming Co. – The Bearded Lady Beard Balm
Handmade, all natural, men's grooming products! Whether he's a beard man or a moustache men, R&J's Circus has you covered.
Cost: $17
https://www.etsy.com/shop/RandJsCircus (Also available at ShopEco)
Same Train of Thought: Hoping to eliminate the grooming needs of your loved one? Why not consider a gift card to Mad Wax, a new waxing studio that just opened up in Windsor. Get smooth this holiday season.
jelbows
If someone on your holiday gift list sits at a desk all day, jelbows makes a great stocking stuffer. Co-founded by former Windsorite, Chris Cullen, jelbows have been relieving office-warrior battle wounds since 2015.
Cost: $12.99
Infinit Canada – Infinit Strength Blend (great for athletes competing in CrossFit)
Infinit Strength blends were created with and for athletes competing in CrossFit. Over a 5 month period Windsor's Infinit Canada worked with some of the top athletes in Canada, including Erica Livett and Jolaine Bloom. The blend contains real fuel that has been proven for years to be the key in full recovery after intense workouts. Check out the 3 products that make up the Strength Fuel System: X-Cite (pre/during), Rescue (recovery) and Raw (straight New Zealand sourced protein as required).
Cost: $3.95 and up
https://www.infinitcanada.com/store/pc/home.asp
Same Train of Thought: You might also consider combining Infinit Canada's Strength Blend with a membership to a local gym, health club and/or studio. Lots to choose from including, Windsor CrossFit, Zanadu Health Club, JS Fitness and Refine Fitness just to name a few. 
Dry Parlour – Parlour Box
Dry Parlour's Parlour Box is here just in time for the holidays! Create your own gift box by choosing any three products (Kevin.Murphy, Amika, Macadamia, or tools) and any gift card, and they'll take 10% OFF of your total! Make sure to add Kevin.Murphy's Dry Shampoo to your Parlour Box. It's amazing!
Cost: Varies
Same Train of Thought: Why not couple a hair pampering session with a little nail pampering session at Enlightenment Day Spa – who by the way just celebrated their Grand Opening or Spaxs Nail Bar. Want even more? What about some lash pampering session at BLINC Beauty Lounge. Va va voom! 
Gift Ideas
SPOTVIN – Windsor/Detroit Box Set
Sold in a limited quantity of 250, each box set will include:
YQG/DTW charcoal T-shirt, Made from a high quality tri-blend material (100% Canadian Made) (Men/Woman sizes S-XXL)
2 Windsor Buttons
Shirts will be wrapped in custom 'Momentum Rose' wrapping paper, we'll also give you enough so you can wrap it up for a gift.
Cost: $50 ($10 will go towards donating to local area food banks and shelters; Windsor Youth Centre, The Downtown Mission and The Inn of Windsor)
http://www.spotvin.bigcartel.com
Same Train of Thought: You might also want to check out Win City t-shirts – a part of the "REP UR CITY" clothing collection from BB Branded Boutique in downtown Windsor. Also, Pushers Co. also has some great men's streetwear. 
Walkerville Brewery – Doppelbock Dark Winter Lager Limited Edition Holiday Growlers
Add a little cheer this holiday season with the gift of beer from Walkerville Brewery. They have holiday gifts available starting Dec 5th! Limited Edition Holiday growlers and bottles PLUS wrapped packages! Make sure to check out their Easy Stout, Milk Stout. One of our favs!
Cost: Varies
https://www.facebook.com/walkervillebrewery/
Same Train of Thought: You might also consider gifting local wines – here's a list of local wineries http://www.essexcountywineries.ca/, Pernod Ricard Wine and Spirits, and other micro-breweries across Windsor-Essex.
FREEDS Windsor – Canada Goose
Stay warm this winter and get the best gear for your outdoor activities. Shop authentic Canada Goose Outerwear at FREEDS Windsor. Looking for snazzy new suit too? FREEDS Windsor's got you covered there too.
Same Train of Thought: In need of a that special cocktail dress or new winter wardrobe? Don't forget these other local retailers that will light-up your holidays (and closet): Anne's On the Avenue, Lazares & CO., Victoria Boutique, ENVY Boutique, and Savvy Boutique just to name a few. Last but not least, keep your hands, neck and head warm this winter with Hook Pusher's custom crochet hats, scarves and gloves for the whole family. . 
Joseph-Anthony Fine Jewelry – Tacori Diamond Ring
Joseph-Anthony offers a phenomenal selection of engagement rings and
wedding/anniversary bands. Those who desire to design their own will be happy to know that they also specialize in custom design. Let Joseph-Anthony's help you with your holiday "I do" moment.
Cost: Priceless
http://www.joseph-anthony.com/
Same Train of Thought: Ok. So it might not be 'local' per say but it's close enough. Shinola watches, made proudly in Detroit, make great gifts. What better gift than time. No need to cross the border because Shinola Watches are available at Windsor's Precison Jewellers http://precisionjewellers.com/.
RMRD Tech – 3D Printed Micro Wind Turbine
A portable micro wind turbine, made of 3D printed parts producing renewable and clean 5 volt USB power for you and those in need! A perfect gift idea for hiking, camping and beach enthusiasts.
Cost: Maker's Kit – $129 and Assembled Turbine – $189
Same Train of Thought: Get your hands on Windsor' SGC Bikes Celaris, a revolutionary bike design that is blowing away the cycling community. Take a few minutes and watch THIS video.
Essex Region Conservation Area (ERCA) – Season Pass
Get out and explore all that the region has to offer. For just $65 each year, you can hit the beach, hike or bike nearly 100 kilometres of trail, see rare bird species during the spring and fall migration celebration, bring your family to dozens of fun events and explore the beautiful and rare natural areas in the Essex Region – as many times as you like!  Passes include a dash card ;and a key fob for entry through our automated gate at Holiday Beach Conservation Area.
Cost: $65 + $10 refundable key fob deposit
http://erca.org/conservation-areas-events/annual-passes/
Same Train of Thought: Not an outdoorsy person? Why not consider a monthly or yearly membership to Hackforge Windsor – A local makerspace. A great idea for any techy on your list. Want more ideas? What about a subscription to the New Windsor Star?
Walkerville Publishing Inc. – Windsor History Trio
Here's your chance to get three popular local history books at one affordable price: 500 Ways You Know You're From Windsor, A Forgotten City, and Windsor Then.
Cost: $65
Same Train of Thought: Add "From the Vault" to your local reading list. You can pick it up at Biblioasis.
Artcite – Doin' the Louvre  
Artcite is preparing for the holidays with their annual fundraiser featuring artists from the Windsor and Detroit area. Doin' the Louvre is in its 34th year of giving locals a chance to showcase their pieces. The exhibit will run until the 24th.
Cost: Artwork from $1 – $100
Same Train of Thought: Art comes in many shapes and forms. What about picking up a sculpture from Tsunami Glassworks or a unique and custom reclaimed piece of furniture from Michael Difazio Reclaim Artistry.
Windsor Independent -This is a Windsor Gift Box
Introducing an alternative to the traditional holiday fare. This is a Windsor Gift Box brings together seven unique vendors throughout Windsor and Essex County for an easy way to provide your friends and family with a taste of the community.
Cost: $85.
Timothy Beaudry Custom Leather
Located in Windsor, Ontario, Timothy Beaudry offers the highest quality, handmade leather goods and accessories. Industrial stitching and hand-selected materials give you the structure, versatility and durability in a bag that will last a lifetime. Showroom located at The City Cyclery.
Cost: Varies
http://www.timothybeaudry.com/
Give the Gift of Giving – Donate
Let's be honest. We all know that person who has everything (or too much) so why not make your life easier (and someone else's) and make a donation to a local charities and/or organizations in Windsor-Essex. Not sure where to donate, click HERE for a helpful guide.
Cost: Priceless
Windsor Express – Home Opener Tickets
Join the Express Nation for their Home Opener and 2015 Championship Banner Raising Ceremony on December 26th at 7:30PM at WFCU Centre.
Cost: As low as $12/ticket
Same Train of Thought: You might also consider Windsor Spitfires or Lasalle Vipers tickets.
Lee and Maria's Market – Locally Grown Food Delivery
Sometimes the best gifts are edible. Consider gifting the gift of fresh veggies and fruits this season. Lee and Maria's Market picks the freshest fruits and vegetables from their 40 acre farm and sources products from other Windsor-Essex and Chatham-Kent farmers and delivers the bounty directly to your home and/or business.
Cost: Bins range from $28.00 to $48.00
Same Train of Thought: Why not also give the gift of cheese? Consider checking out young entrepreneur, Sarah Barrette's venture The Cheese Bar, a local company that specialize in seeking out and introducing 100% Canadian made Artisanal Cheese to locals and visitors to Essex County. During winter months, The Cheese Bar will be offering a delivery service on all orders of $20 or more Essex County wide. A great idea for those who will be entertaining this holiday season too. Visit http://thecheesebar.ca/.