A FREE science festival open to everyone passionate about science and discovery! Join us for a day of mind-blowing demonstrations and exciting exhibits on Saturday, May 12, 2018 from 10AM-4PM. The event will be held in the Education Gym and CAW Centre on the University of Windsor campus.
This year's theme is STEAM: Science, Technology, Engineering, Art and Math! Don't miss our thrilling chemistry and physics shows among other activities to be announced soon. Those who complete their science passports by visiting each booth are eligible to win amazing raffle prizes! Scroll down to see a list of all our supportive raffle donors!
Attention all grade 11 & 12 students in Windsor-Essex! Enter our STEAM Survival Challenge for a chance to win one of three $500 scholarships to study in the UWindsor Faculty of Science! The winning projects will be announced and on display at Science Rendezvous Windsor on May 12! Check out this link for instructions and rubric: https://drive.google.com/file/d/1pzaBhbSq1GRehREGNXXGvKKfeLNkAe_P/view?usp=sharing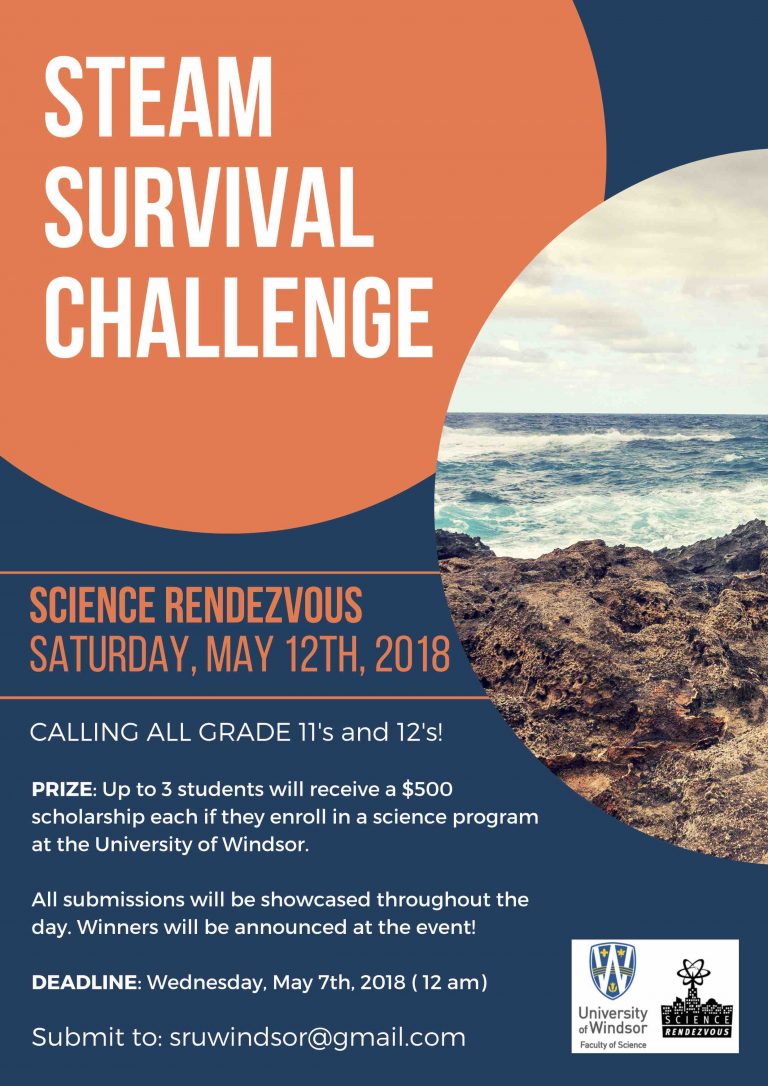 A pass for FREE PARKING will be posted soon for all attendees and food will be available to purchase.
Stay updated by following us on Facebook, Twitter, Instagram or email Keren Bernal and Maisha Ahmed, our Student Co-Chairs of the Science Rendezvous Windsor 2018 Organizing Committee at sruwindsor@gmail.com for more information!