As the demand for medical supplies, innovation solutions, peer-to-peer support, data analysis, service fee reductions, and e-learning across Canada increases, local tech companies and organizations are joining the fight against COVID-19.
Here are just a few ways Windsor-Essex and Chatham-Kent tech companies and entrepreneurs are fighting and managing COVID-19.
WinHacks Hackathon Goes Virtual and Tackles COVID-19
The weekend of March 27-29, history was made in the Windsor-Essex innovation ecosystem with WinHacks. Around 400 students joined us on this three-day event, where all participants were given 36 hours to come up with their greatest hack. Learn more.
Local Entrepreneur Launches New Online Mobile Ordering System for Small to Mid-sized Casual Dining Restaurants
A local entrepreneur has built a mobile ordering system providing restaurants with an affordable way to offer take-out and delivery. Jubzi is commission-free for restaurants, and only charges a small transaction fee to the customer for the convenience of mobile ordering. Learn more.
Local Graphic Designer, Shane Potvin, Offers Adobe Illustrator Tutorials on Facebook Live
Tutorials will take place Tuesday and Thursday at 2pm. Learn more.
Local 3D Printing Community Mobilizes to Support Healthcare
After seeing the PPE shortage hitting the local healthcare community, a group of local tech companies including KELCOM 3D Division, OLT Footcare, Pep Corp, Red Piston, Reko, Dory Azar Architects, Vista Print have mobilized to test run 3D printed face shields in hopes of keeping people safe during the #COVID19 outbreak. Chatham-Kent has also mobilized dozens of companies to support PPE efforts. Read more.
Tactile Vision Offering Free Braille Greeting Card
Starting March 23rd until the end of April, Tactile Vision Graphics Inc. , (a former Windsor company now living on the East Coast) is offering Canadians a FREE 'Thinking of You' braille greeting card (valued at $7.95). The only cost is shipping and handling.
Graphic Designer Creates Unique Coloring Sheets
Windsor Graphic Designer, Jeff Denomme of The Haunted Zoo, has designed and shared activity and coloring sheets for the kiddos (+adults) to download.
Audicia Bioscience Launches Tool to Help Individuals Monitor Risks and Symptoms
Audacia Bioscience – a local biomedical and research company – has developed and launched a tool that allows individuals to monitor themselves for COVID-19 risks and symptoms. LEARN MORE.
Greater Essex County District School Board Helping to Get Tech into Hands of Students
Members of GECDSB IT department is working hard to get technology into the hands of students that don't have devices in their homes.
Local STEM Educator Creating Daily YouTube STEM Challenges
Stuck at home with the kids because of COVID19? Mr. Maker, @ChuckStoffle, has launched daily bite-size STEM YouTube challenges for homebound kids + parents. Learn more.
Lift Lessons Offering FREE Home Learning Digital Resources for Educators and Parents
Introducing the launch of #edtech portfolio client @lift_lessons, an online tool that combines animated videos, digital quizzes & spaced learning to teach #science vocabulary. Sign up before May 1st to receive FREE access until Sep! Learn more.
AlphaKOR Group Offering Virtual Roundtables for Entrepreneurs
AlphaKORGroup will be providing twice weekly virtual roundtable meetings. The first session will take place March 26th at 2pm. The sessions are open to business owners and entrepreneurs. Learn more.
SIRVED App Promotes Food Delivery Options & Free Advertising for 90 Days
SIRVED has announced its working with Postmates in the US and & DoorDash in Canada to give delivery options more of a presence on their platform. Learn more. For 90 days of free advertising, click here.
Deliverbae Offers Free Delivery for Seniors and Delivery of Sanitizer
Deliverbae is partnering with Pernod Ricard Distilleries in Windsor to distribute hand sanitizers to hospitals/businesses. They are offering free deliveries to all area seniors and have waived a 15% partnership charge for all current and new local stores/restaurants. Learn more.
TekSavvy Suspends Overage Billing
As Canadians work from home and families stay home during the COVID-19 pandemic, TekSavvy is suspending overage billing for current TekSavvy customers, effective immediately until April 5, 2020.
WaveDirect Partners With Big Brothers Big Sisters of Windsor Essex, Provides Vital Technological Support To Organization's Daily Needs As an Official Tech Sponsor
WaveDirect, a telecommunications service provider, and Big Brothers Big Sisters of Windsor Essex, a national mentorship organization for local youth, has announced an exciting technological partnership. Learn more.
Local Tech Companies Assisting With Suddenly Remote Support
Parallel 42 Systems is helping organizations and non-profits in Windsor-Essex get set up for work at home. They have created a quick start guide to to help organizations get their next meeting up and running. InspireHUB has also stepped up and shared the webinar recording for remote team management and team building.
Screenshot from Suddenly Remote Webinar with InspireHUB and AlphaKOR Group
And it's not only the local tech community standing strong, we also wanted to take a moment to spotlight a few local small businesses who've displayed innovative usages of technology platforms and tools.
Bootlegger Distillery in Bothwell Hand Sanitizer
Nurse No. 9 is a hand sanitizer project started by nine companies around Chatham-Kent, amid the COVID-19 crisis. LEARN MORE.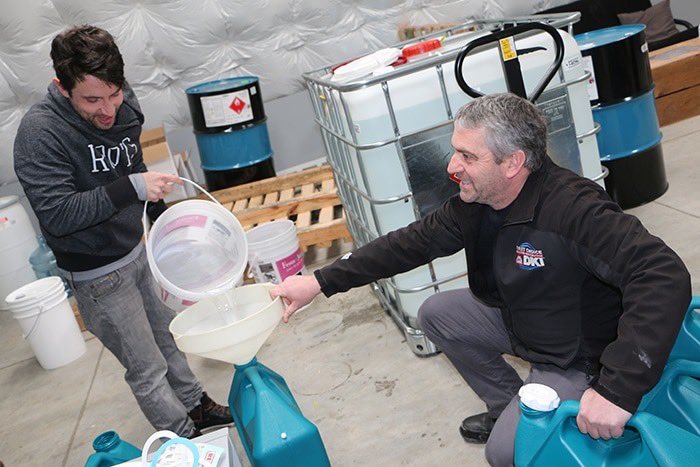 WindsorEats Virtual Karaoke Party
To help everyone combat cabin fever as we all hunker down in isolation during the COVID-19 crisis, WindsorEats' is hosting an interacting and virtual karaoke party on Instagram. The festivities take place on Friday, March 27, 2020. Learn more.
JP Wisers Offering TGIF Canadian Whiskey Cocktails Live Streaming
JP Wisers is offering 4 live streams this week including Canadian #Whisky History, What's Coming Up in Canadian Whiskey, TGIF Canadian Whiskey Cocktails and more. Join them this week, each day at 5PM EST on Instagram at @JPWisers.
The Denture Center Printing N95 Masks and Ventilator Components When they can't do dentures, Windsor's The Denture Center is helping the COVID-19 fight by testing 3D printing of N95 masks and ventilator components in hopes of supporting healthcare workers. Learn more.