As we continue to monitor the changing dynamics around COVID-19 in Windsor-Essex, Chatham-Kent and around the world, WEtech Alliance is working closely with appropriate health (Public Health Agency of Canada) and government authorities along with community partners to determine the protocols and next steps necessary to ensure the health and safety of our team, clients and partners.
In response to concerns regarding COVID-19, we are taking the following actions:
All WEtech staff are working from home. Connect with us HERE.
All in-person events, workshops and meetings currently scheduled have been suspended until further notice. If you have a meeting or event scheduled, we will coordinate with you to develop an alternative arrangement.
We are no longer taking meetings at our main office (2455 Wyandotte Street) and will be instead setting up virtual meetings and teleconference calls, where appropriate. 
Be advised that if you are a current tenant of EPICentre, building access is now closed. For up to date information, please contact wteoh@uwindsor.ca
All business travel has been suspended.
With all of the uncertainty, we know you have questions and we know you're looking for our guidance. There is a lot that we don't know – but we will do our absolute best to get you the answers and solutions that you need. We will continue to provide meaningful support to our startups, scale-ups, and enterprise companies, by way of phone, email, and video conferencing.
Client Support for Startups, Scale-ups and Enterprise Companies
WEtech will continue to provide meaningful support to our startups, scale-ups, and enterprise companies, by way of phone, email, and video conferencing.
All client meetings will be moved to virtual sessions until further notice. The client process remains the same for booking meetings and accessing WEtech resources. We will also be extending client support call hours from 9:00am – 7:30pm Monday to Friday to handle increased capacity and more flexible scheduling
Tech Event: What Has Been Cancelled, Postponed or Modified Due to COVID-19
Here's a list of all the local tech events and programs that have been canceled or postponed due to the ongoing coronavirus outbreak. SEE LIST HERE.
WEtech will by suspending any in-person events, peer groups, and non-essential meetings until further notice.
Tools and Resources to Support Tech Startups and Companies
Along with many of our tech ecosystem partners around Canada, we have put together a living document offering frequently updated business continuity best practices, tools, and resources specific to the COVID-19 pandemic. This document will be updated frequently as new resources become available.
Additionally, our friends at MaRS have created a COVID-19 collection for tech startups and companies. This collection brings together a set of tools and tactics startups can use to prepare, plan and respond to the 2019 coronavirus disease (COVID-19).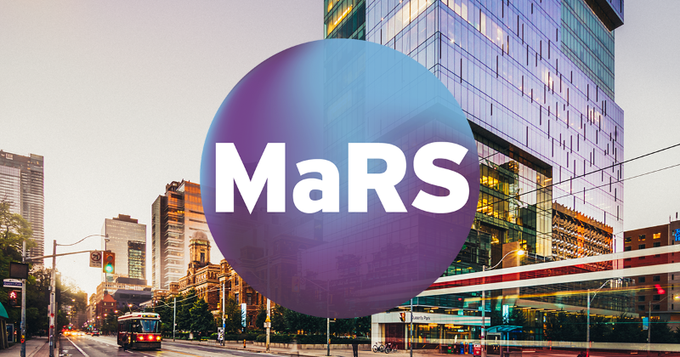 Lastly, The Council of Canadian Innovators (CCI) is hosting a COVID-19 update call Monday, March 16, 2020, from 2PM-3PM EST for Canadian Tech Leaders.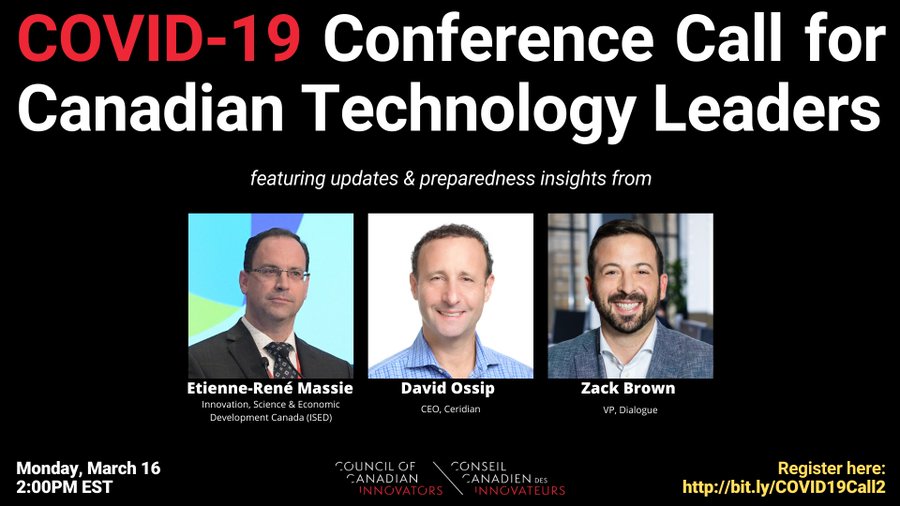 They will have Étienne-René Massie from Innovation, Science and Economic Development Canada (ISED) on the line to provide an update and answer questions regarding the Government of Canada's COVID-19 Response, including the new supports available for Canadian businesses.
They will also have David Ossip, CEO of Ceridian, and Zack Brown, VP of Sales, Dialogue, on the line to take questions and outline the steps they took to prepare their workforces for disruption.
TO PARTICIPATE PLEASE REGISTER HERE: http://bit.ly/COVID19Call2
We look forward to working with all of our incredible entrepreneurs and companies and continuing to provide the support you need. Thank you for being a client, and making us a part of your team.